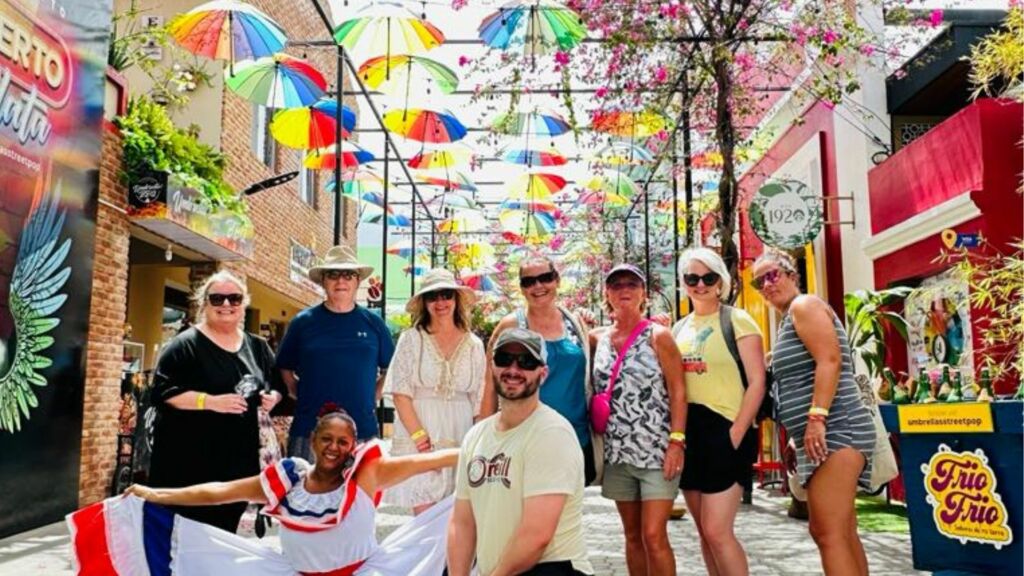 Setting the stage for a transformative experience, Travel Masters embarked on an exclusive VIP trip aboard the Virgin Scarlet Lady. This journey transcended boundaries and redefined the very essence of cruising. This extraordinary 5-night expedition, commencing from the vibrant shores of Miami, brought together some members of our fantastic team and a bunch of incredible travel agents who hopped on board the Virgin Scarlet Lady for a mind-blowing 5-night escapade from Miami. It was more than just a trip; it was a wild ride that shattered all our cruising expectations.
Destinations Beyond Dreams: Unveiling Puerto Plata and Bimini Island
Travel Masters' VIP voyage featured visits to two exquisite destinations:
Puerto Plata, Dominican Republic:

A rich tapestry of culture and sun-kissed beaches welcomed the travellers, providing an immersive experience into the heart of the Dominican Republic.

Bimini Island, The Bahamas: Exclusive access to Virgin Scarlet Lady's private beach club on Bimini Island offered a secluded paradise, complete with pristine sands and crystal-clear waters, creating a picture-perfect retreat for the attendees.
The Virgin Scarlet Lady, an adult-only haven, transformed the notion of cruising, offering:      
Trendsetting Atmosphere:

From trendy aesthetics to sophisticated design elements, the Scarlet Lady sets the stage for a stylish ambiance, catering to travellers seeking a chic getaway.

Unique Amenities:

Guests indulged in a gastronomic journey without additional charges for specialty restaurants, and even had the opportunity to immortalize their memories at the ship's onboard tattoo studio, adding a touch of uniqueness to their experience.

Balcony Bliss:

Every stateroom was a sanctuary of relaxation, featuring private balconies with hammocks, allowing guests to sway gently with the sea breeze, creating an atmosphere of unparalleled serenity.

Entertainment Extravaganza:

A diverse array of world-class entertainment, including captivating performances and live music, enthralled attendees throughout the journey, elevating the cruise experience to new heights.

Culinary Delights and Reasonably Priced Drinks:

Delectable cuisine and reasonably priced beverages ensured that culinary cravings were satisfied, and glasses were always raised in celebration.
Some members of the Travel Masters team, including key figures such as Neil McMahon, Jackie Seaton, and Heather Stuart along with some of our exceptional travel agents like Kimberley Davis, Amber Taylor, Tracy Young, Linsey Jay, and Davis Robertson, extended their heartfelt gratitude to Virgin Cruises for curating an unforgettable journey. As winners of the prestigious 2019 and 2022 Impact Awards, and an honourable mention from the same accolades, the team shared their delight in creating memories that will be cherished for a lifetime.
We extend our deepest gratitude to our incredible sponsors, Air Canada, Air Canada Vacations, Travelbrands, and Virgin Voyages, for making our extraordinary journey possible. Your unwavering support and generosity have transformed a simple voyage into an unforgettable adventure.
---
From offering cutting-edge technology, and responsive customer support to providing one of the highest commission structures in the industry, at Travel Masters, we support you every step of the way in your journey as a travel agent, and we make sure to provide a smooth transition. Book your discovery call now and see if we are the right host agency for you.